With the end of World War II a history full of war and destruction belongs to the past for large parts of Europe. Accompanied by many difficulties and tensions, notably in the time of the Cold War, a period of reconciliation follows. The European Union is born and unites countries which for decades and centuries were predominantly hostile to each other.
However, more than 60 years after signing the Treaties of Rome and just a few years after receiving the Nobel Peace Prize in 2012, this peace and prosperity project faces severe danger. Nationalist and populist movements shake the foundations of a united Europe, preventing decisions of community interest and making the European Union the scapegoat in almost all policy areas.
We should in no way react to this by weakening or even destroying the union of European states, which, among other things, has ensured the longest period of peace in the history of Western Europe and significantly strengthened civil rights. Rather, we should focus our efforts on developing the Union, remedying its weaknesses and strengthening its positive aspects. The European Union has never been perfect and will never be perfect – it is an ever-changing project and we all have to shape it.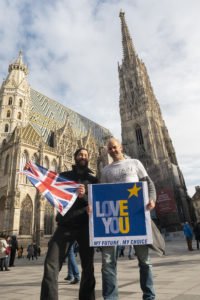 Let's contrast a lack of unity, cumbersome bureaucracy, democratic deficits, self-interested lobbying and insufficient transparency with a vision that must be protected: to believe in and help shape a common future for people in a united Europe.
The #loveyouEU initiative invites people, no matter which origin, to express and share their pro european attitude. Be part to promote a pro european lifestyle. Our personal believes to launch this initiative are reflected within the following principles:

Commitment to a peaceful, common Europe defending the European Charter of Fundamental Rights
Further development of the European Union into a community of values based on the European Charter of Fundamental Rights and thus also into a social union.
Commitment to and promotion of social peace within the EU, as well as between the EU, its Member States and other regions of the world, the protection of the environment and animals, and the achievement of the Sustainable Development Goals (SDGs) of the United Nations.
Promotion of transparency and participation of civil society in political decision-making processes in order to increase democratic involvement.
Let us be Europe, let us participate in the decision-making process through our active involvement in democracy, in elections, in the protection of animals and our environment and, above all, in defending European fundamental rights.
Nicolas & Michael
Founders of the initiative #loveyouEU