This is the second part of the blog-article presenting the conclusions from the study "Populism and Economic Dynamics in Europe" by Karl Aiginger, Austrian economist.

Part II.
Populism and the European Unification project
Populists oppose European unification and even more the deepening and enlargement of the EU. This became evident during the Brexit process, when populist parties, but also significant groups in the conservative party favored Brexit, and that part of left-wing social democrats which were always suspicious towards European integration because if its capitalist character abstained from declaring their real opinion. For a long time, Marine Le Pen demanded that France leaves the EU, as several other national populists did in other countries with different vigour. Only after realizing that the majority of the electorate are in favor of continued membership did they change the official message. They switched to demanding unrealistic reforms in governance and policy in the EU, with the clandestine agenda to call for exit if these are not fulfilled. As a first step, they call for a reduction of the power of the Europe Central Bank as well as an exit from the Eurozone.
Evidence on voters and voting:

Populist support is higher for low-income people but not necessarily the lowest, and it decrease with incomes. It is higher in rural areas, with some studies showing that it rises again in metropolitan areas. It is higher for older people, but in some countries young people also vote over-proportionately for right-wing parties. Economic causes are confirmed, as vote shares for populist parties are higher for industrialized regions. But there seems to be no correlation between the change in industry shares and in voting shares for populists and no consistent impact of the change in total employment or unemployment rates. A reason could be that highly paid workers in traditional industries do not rejoice if employment in other industries or in the service sector rises.

Setting the picture correctly:
Populism profits from a biased, pessimistic picture of the economic and societal situation. A counter-strategy therefore has to correct the frame by recalling past welfare increases and the historic success of the EU in conflict-solving on a war-prone continent. Any status, however, also has to report the economic problems such as inequality, unemployment of the low-skilled, the depopulation of regions and missing integration for migrants. A proactive strategy has, in a second step, to offer a vision of where Europe wants to go in the next decades, and which game-changing strategies might help to get there. A better communication strategy with citizens, youth groups and migrants of the first and second generation is needed. Accepting the biased framing of the populists without analyzing success and problems, will necessarily lead to a "populism light policy" that will aggravate the problems having led to populism.
A new vision for Europe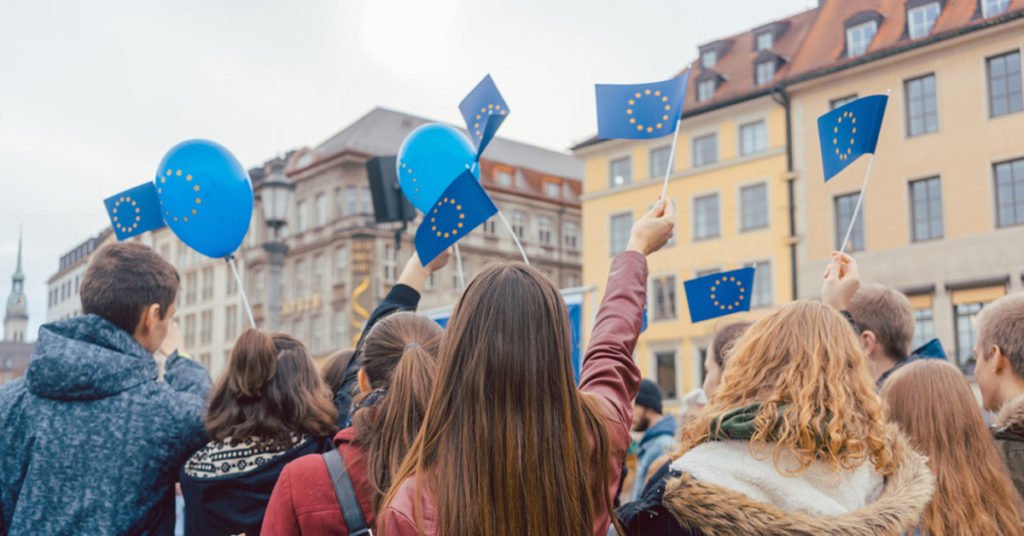 Up to 2050, Europe should try to become the role model of a society with high and further increasing well-being. It should be open for ideas, innovations and different cultures. The quest for a large variety of goods and services increases with rising incomes. The top position of Europe in well-being is achieved through an inclusive strategy with low unemployment and inequality – the European lead in limiting climate change. Digitasation, innovation and industrial policy must serve societal goals. Together with sustainable development goals, high and increasing life expectancy can be – the uncontested indicator for monitoring rising well-being.
Today, Europe is the region with the highest share in world GDP and leads in many non-economic indicators important for rich societies. By 2050, it can, together with its vibrant and dynamic neighborhood, still be on par with China and produce a higher output than the US and its neighbors. The EU will probably have more members than today, since more than ten countries have entered the accession process. And following the vision, the Euro could be the currency for 25 countries instead of 19 members today.
The vision requires game changers in economic policy, but also in behavior and thinking. We offered seven game changers, even if we know that they are neither easy to implement nor complete. One of them is that the loss of jobs through globalization or technological change, should be prevented by a broader and problem-oriented education in advance, not by ex post protection, renationalization and calling back past glory and virtues. Empowerment for change should substitute ex post social payments, which are expensive and in the long run not really welcomed by those to whom they are paid.
We live in a situation of uncertainty and limited knowledge but can be optimistic that solutions exist or come up in bottom0up approaches and place-based strategies.
The peace project is still important
Never again having war in Europe was the central idea that started European Unification. Promoting an open economy, a Welfare State or a Social Market model helped to overcome obstacles in the following decades. Integrating the former socialist countries and promoting the rule of law then also boosted growth in the old members and stabilized conflicts in Central and Eastern Europe. Partnership – not necessarily membership – should now be extended to the European neighborhood. Here, Europe can engage in mitigating conflict through investments, upgrading education, boosting growth and creating a large vibrant market for exports.
But the peace project, even if it was very successful, no longer convinces citizens that ever deeper integration and enlargement is necessary. Nor is it convincing if experts and opinion leaders argue that some problems – like climate, tax evasion, or health problems – can only be solved through international cooperation.
Towards a new narrative
A new narrative for Europe could be "A Europe that empowers and opens life choices". This can enable Europe to become the most prosperous region in the world, engaged in conflict resolution and shaping globalization in a responsible way.
In other words, Europe protects its citizens not through walls or military power, but by providing broad and modern education to its citizens as well as its neighbours. It boosts investment and incomes by leading in decarbonization, digitisation and health. Increasing choices and chances increases well-being, prevents disruptive migration and thwarts the rise of new hegemonies in the European Neighborhood.
Sticking to a pessimistic view is neither necessary nor welfare-improving. It leads to worse solutions, high costs for military and security, and the inability to solve climate problems. It requires the scapegoating of sinister foreign forces. That segment of the populists which cares for real problems and the needs of "forgotten" people and places is invited to join in the search for proactive solutions forfeiting egoism and nationalism.
Karl Aiginger,
  Director of the Policy Crossover Center, Austrian economist, lecturing
 at the Vienna Economic University, Managing Editor of  "Journals of 
Industry, Competition and Trade (JICT)". Main author of the study "Populism and Economic Dynamics in Europe". Policy Crossover Center: Vienna – Europe. Policy Paper 1/2019
www.querdenkereuropa.at